WANA Solutions Ltd 1st Runners up Small Scale Category
wanaenergyComments off.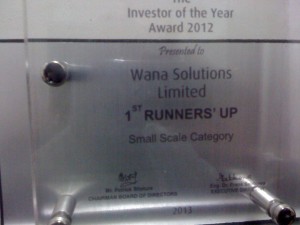 On Thursday 11th April 2013, Uganda Investment Authority together with the Common Wealth Bussiness Council organised the Investor of The Year 2012. WANA participated and they were selected as the 1st Runner ups for the small scale category because of its Corporate Social Responsibility. WANA pledges to continue working with the community they work to see that they reach more than 20% of the population who can use cooking gas as a reliable and most affordable energy.
The Managing Director Dr. Emmy Wasirwa said that this is just the beginning since we are now wounded and that is going to invest most in the community they work in so that they can pay back to the same community.
Posted in: News and Events