Wana Recognised by Seed Initiative with an Award
wanaenergyComments off.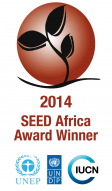 on 1st September Wana was among few people in the world recognised by Seed initiative an international body supported by several united nations body. Dr. Wasirwa attended and he was the recipient of our award. Click on the link for further information.
Posted in: News and Events