Bulk Installations
wanaenergyComments off.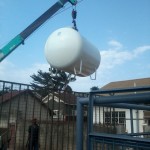 When we had just come into the market in 2008 we promised our customers that we have the expertise in the installation and management of bulk LPG. Our bulk customers will enjoy from our expertising of pipe resizing, tightness test. Wana makes sure that all our customers in a single location are able to cook without any effect of receiving any shortages.
With the expertise, our customers are able to receive gas without necessarily running out of gas. We use a system called watchman where the gas is monitored every time.
Posted in: News and Events