Argus LPG Africa 2015
wanaenergyComments off.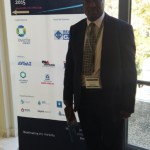 From 20 – 22nd October, African LPG Marketers together with World LPG traders and shippers converged in South Africa in the City of Cape Town and shared the experiences and challenges in the industry. Dr. Emmy Wasirwa who represented Uganda and Uganda Liquefied Petroleum Gas Association presented at the conference the opportunities and challenges in the Ugandan market. Emmy concluded by saying that without government involvement in the development of LPG industry little will be done to grow the market.
Posted in: News and Events